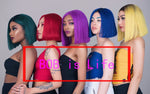 BOB IS LIFE | 15 looks that give you life
Click Here To Choose More BOB Wigs 
The Bob hairstyle has been around for centuries and even when it derived many of years ago, it represented the bold woman. Here we are in 2019 and Bob is Life, as they have yet to go out of fashion. The beauty of it all is, they continue to enhance; as they're nothing like the ones our moms use to wear. We now have dozens of variations of the Bob hairstyle, whether it be short, a bit on the longer side, angled, straight, wavy, with bangs, highlights or completely colored. Celebs have made clear cut lines, full bangs and layers the staples for selfie worthy hair and below we will highlight some of our favorite bobs worn by some of our beautiful customers.
Short Bob
The Curly Bob
This bob is fun, flirty, sassy and cute. Curls come in a variety of styles such as: loose wavy, loose curls, or tight curls. A water wave bob gives you a nice beach waves style. Deep curls give you a little more bounce and volume than water wave. Tight curls are for my ladies who enjoy the big hair. 
The Colorful Bob 
I really love love the colorful bobs ,it's funny ,lively,flirty, sassy and cute.you must have a white hair to spend the colorful summer.